Cable Deck Railing Ideas
A very popular railing now is cable railing and here we will shares some cable deck railing ideas. There are more ways than just the typical horizontal railing. Cable rails can be arranged in multiple different configurations and will always add some modernist aesthetic to whatever kind of home they are added to. It's important to consider the overall architecture of the home before deciding whether or not you want to use stainless steel cable rails.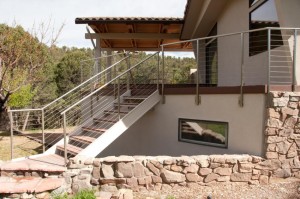 There are other ways to use metal on a deck railing. Many home improvement warehouse stores carry metal balusters. These are available in a  wide variety of styles, colors and finish. Metal balusters like these are affordable and easy to install but still lend the same aesthetic of a wrought iron handrail which would be much more expensive. The metal baluster railing can generally be assembled by a skilled carpenter or contractor.